Richard Deacon is known for using "construction and building fabrication techniques" in his art. Overall, he seems just as concerned with the materials he uses as he is with the meaning of his work. Born in Wales, in 1949, Deacon was a well-known, promising young sculptor in the 1970's and is now one of the most famous British sculptors of his generation.
Deacon uses a wide variety of materials, from wood to polycarbonate and leather to ceramics, but for the sake of this class, I will consider one of his wood sculptures.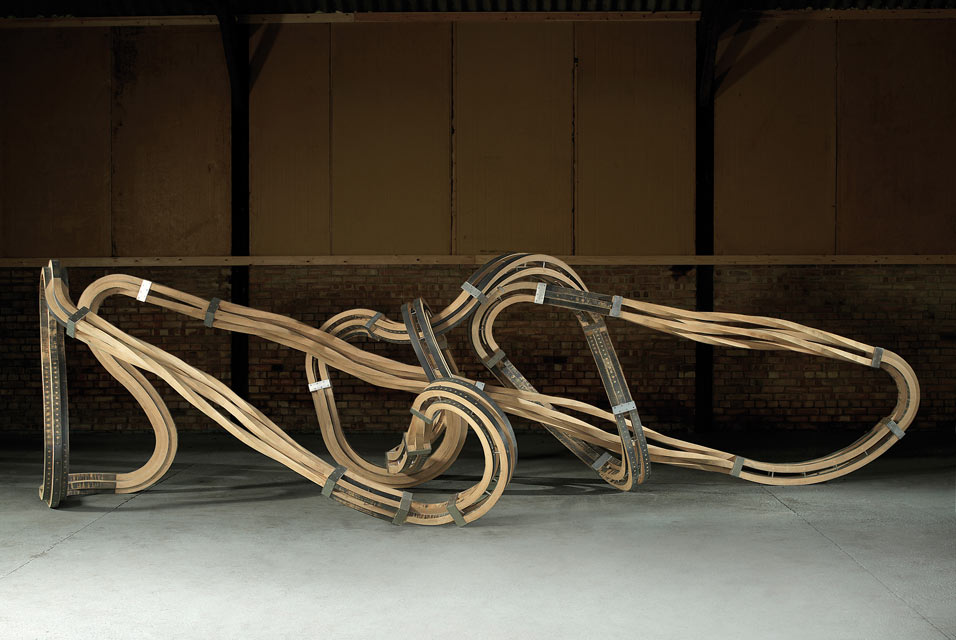 Quick, 2009. Chêne et acier. 180 × 622 × 231 cm. Strasbourg, Musée d'Art moderne et contemporain. Photo : Ken Adlard
Steel joints brace this piece entitled "Quick," allowing the wood to move in ways that might not happen naturally. "
Organic …. and engineered,
" this piece makes an indirect connection between manufactured objects and biological forms because it's a little bit of both at several levels (movement, materials, techniques, etc.). More specifically, Deacon explores how material and construction techniques interact to delve into dualities of meaning at a subjective level. He says a lot about the modern world through the relationships at play in his work.
You can see his techniques and materials very clearly so that his process becomes part of the meaning of his pieces:
His sculptures never seek to hide technical operations behind them, including assemblage, riveting, torsion, stretching, folding or strapping…
His process starts with drawing but it always moves into industry fabrication. In the piece above, the wood was "steam(ed), then clamped and strapped onto metal and assembled using a system of metal fixtures."
Deacon's sculptures relates to furniture-making in that they interact with the space around them and they usually interact with a lot of tension:
...beholders clearly sense themselves in the force field between the sculpture and the surrounding space, and walking around the object search for views inside or through the object and the inner spaces enclosed by the sculpture as immaterial shapes, and for an immanent principle of order.
More dualities that are cited about Deacon's sculptures include "the struggle between chaos and order [and the struggle] between formlessness and rigorous structure."
I think it's amazing how much can be said once techniques are mastered and then all mashed up with a variety of materials. It is inspiring to learn about someone who constantly explores his options in order to get exactly what he wants.